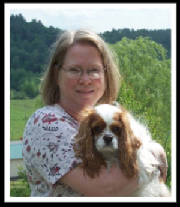 Faith and Daisy
My mother tells me that when I was big enough to hold a pencil in my hand that I would draw little stories on every scrap of paper that I could find. Ever since then I've had a penchant for drawing, especially animals. I used our pets as models but I especially loved drawing horses, copying whatever pictures I could find them. My favorite artists were not only those who rendered forms accurately, but who also told a story with their pictures like Norman Rockwell and Sam Savitt.
Born and raised in Coral Gables, Florida, I didn't take any formal art classes until High School. That same year they just happened to hire a new art teacher who emphasized drawing and other fine art mediums instead of the crafts that were popular in the seventies. In college I decided to major in art and graduated from Florida State University with a B.A. in studio art. After college I worked in graphic design for small printing firms, advertising agencies, a graphic design house and a landscape architect (imagine a job where you just draw and color!).
Although I've worked in watercolor, acrylics, and pen and ink, my first love is pencil, especially colored pencil. My first set of colored pencils was from the corner drugstore when I was in elementary school and I've never been without them since. Since moving to Western North Carolina 14 years ago, I've been making more time to pursue my art work as well as commissions. I always have a camera available to snap photos of something that catches my eye that might make a good drawing. My favorite part of a portrait or rendering are the eyes of my subject, they tell so much about that person or animal, giving you a little bit of insight in to their story.
I have had pieces juried into local shows in Asheville, NC, and one juried into the Colored Pencil Society of America International Show in 2009. Also I was recently featured in the Artist Profile in the June 2011 issue of the Colored Pencil Magazine.